A moment can enrich your life.
Remember "what you felt", not "what you did" at that moment.
A moment can enrich your life.
"What you felt" not "what you did" matters.
We don't have anything fancy, no busy tourist spots or fun amusement parks. We know you've already been there many times.
We offer you a futuristic form of travel focusing not on "what you do" but on "what you feel". A kind smile, casual hospitality, and friendly conversation please you. Take them home with you. They will stay in your heart your whole life.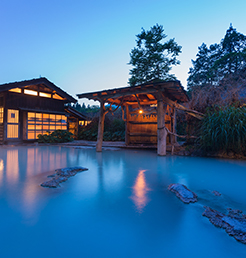 Stop being a realist and become a romantic.
Don't you sometimes feel tired or lonely in this world of realism? What if you are a romantic, who has a great imagination? Be one and try a trip of a different style. Put yourself in new surroundings and you may want to start singing or write a letter to someone. This is a holy ground where you can set your heart free.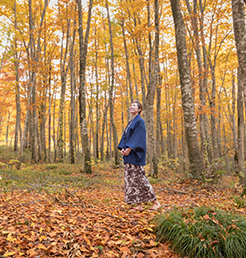 Surround yourself with gifts from the land and shining sky.
We welcome you to a world where you can enjoy charms and gifts of nature (hot springs, starry night sky, seasonal views, and good food) all at once. Indulge yourself in them.
Breathe in the fresh air and look up to the sky where numerous stars are twinkling.
Every time you visit the village, it shows a different face. Spring, summer, autumn, and winter…there are many more seasons here.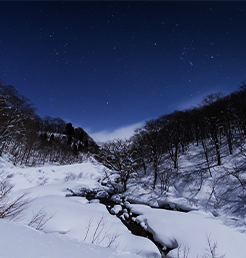 Expect heartwarming encounters.
How you meet someone or something doesn't matter.Everything begins by chance.Coincidence can be fate.
Expect heartwarming encounters.
Discover and rejoice.
Have you discovered something new lately?
There is a place that you might overlook easily. You would feel as if you were the hero/heroine of a stage drama produced by Mother Nature here. Expand your sensibilities and you'll be amazed to find yourself standing in the power of nature. That's when you recover your innocent, sensitive mind. You'll remember this exciting moment forever like an unforgettable precious memory.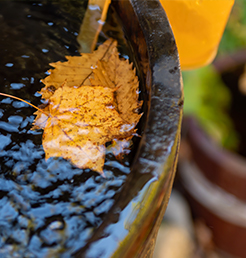 A new beginning brought by a chance encounter
How you meet someone or something doesn't matter. Everything begins by chance. Coincidence can be fate. Every day, every moment is a chance for an encounter.
Chance encounter… A little encounter may lead to a lifetime relationship. A trip can change your life.
You will come back here for another encounter.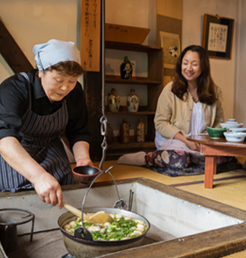 Have your holy ground.
Recover what you've lost in your daily life. A warm, friendly conversation, serenity, peace of mind, or good, fresh food in season.
Graceful, bold, yet sensitive nature and its powerful energy. You'll start thinking about who you are and what life is.
We may not have what you have, but we can offer what you're missing out on in your busy life; a real luxury for your soul.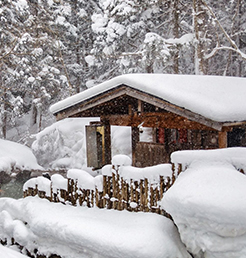 Discover yourself in the mystery and beauty of nature.
Sunlight that shines through fresh spring leaves, fall foliage that look so red and fiery, and a mountain stream that turns violet at the sunset. Nature puts on one show after another just for you.
Discover yourself in the mystery and beauty of nature.
Vital water and your potential
A drop of water tells a story. Rainwater seeps into the ground. Then it is nurtured by the beech forest. It eventually becomes hot spring water welling up from the earth. In the end, it flows into the mystic azure lake.
The vital water may make you think of your life and potential. It may make you look back upon the past and think about what kind of person you want to be in the future.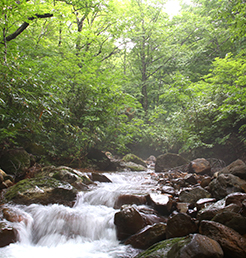 Light, shadow, and me
Skyscrapers block the sun. Their shadows stand still and look so cold. Because of the rugged topography, shadows move and change their length as the day goes by in our village.
Fresh spring leaves are shining so beautifully that you feel as if you could smell the scent of nature. Autumn leaves look red and fiery in the sun. A mountain stream turns violet before dusk. Rays of light suddenly start shining through trees in a beech forest when the sun comes out. Nature puts on one show after another just for you.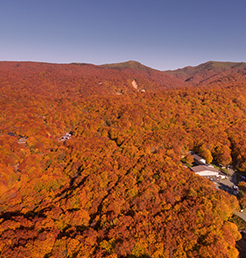 Get your intuition back.
We all live in a world filled with artificial objects and overflowing with information, which sometimes takes away our ability to think by ourselves. Why don't you take a break from such a world? Soak your hands in a cold mountain stream, feel the fertile ground under your feet in the woods, or touch a snow wall that is taller than you. You'll be so excited and want to share your experiences with someone. This is a place where you feel the beauty and power of life and start regaining your intuition.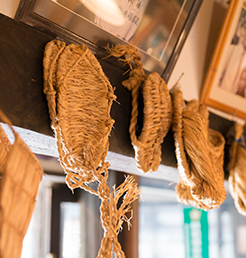 Soak in an ultimate hot springs vacation and enjoy it with all five senses.
You would feel as if you had never taken a real deep breath before.Here you naturally start breathing deeply and slowly.
Soak in an ultimate hot springs vacation and enjoy it with all five senses.
The deepest breath
When you're soaking in a nice, warm spring bath, when you're amazed at the colorful beauty of nature, or when you're enjoying a cup of good sake brewed wholeheartedly, you often find yourself sighing "Ah" Maybe it's the deepest breath you've ever taken. You naturally breathe more deeply and more slowly here in our village.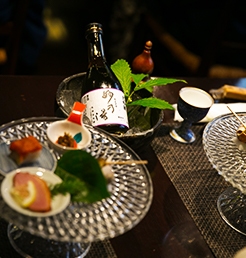 Memory of a serene night
The best part of staying at a quiet hot spring inn in the mountains is the night that makes you forget time. You don't know what to do after enjoying a fabulous dinner? Don't worry. You'll be entertained by the sky sparkling with stars, chirping crickets, and the gentle sound of a small stream.
You'll never forget a night when your senses are sharpened in the dark and you become a part of nature. Have some good sake and be intoxicated by the serenity of the night.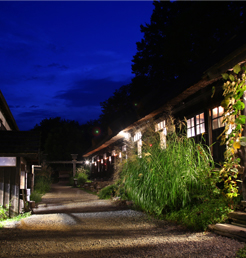 Unforgettable scents
There must be smells that you cannot forget. The fragrance of some perfume may remind you of someone special. The smell is closely connected to our memories.
The delicious smell at a dinner table may remind you of a dish that you enjoyed once. The scent of incense burned at the inn and a pleasant conversation you had then may stay together in your heart. The lingering smell of sulfur spring hot water may recall your memory of the relaxing time you enjoyed. They all can be unforgettable scents for you.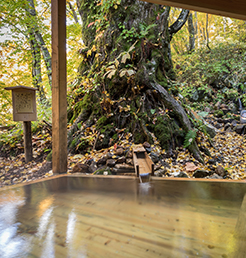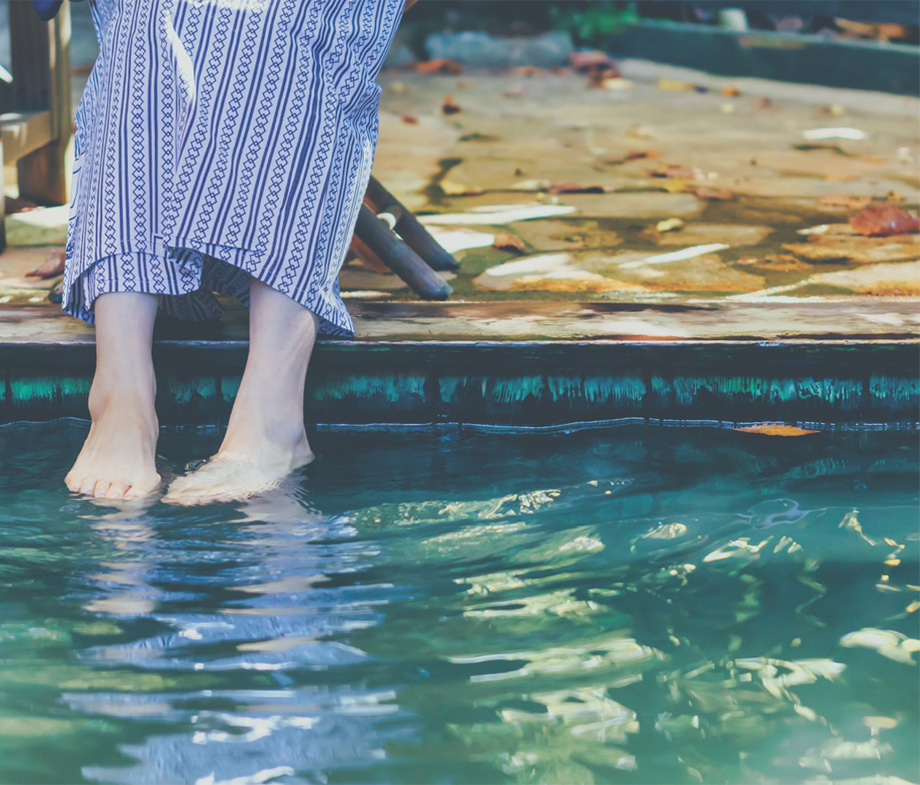 CONCEPT
What is ?
Beautiful scenery, seasonal local food, pleasant interaction with local people, and a new, yet somehow nostalgic feeling you have when you take a deep breath... Listen to small voices that you normally don't even try to listen to and you'll realize that nature changes its face constantly as if there were twelve seasons and that each face brings you a different gift.
Akita has four seasons. Akita has "12 seasons".
12 seasons is a website that helps you find a futuristic form of travel
where you can experience the beauty and mystery of nature with all five senses.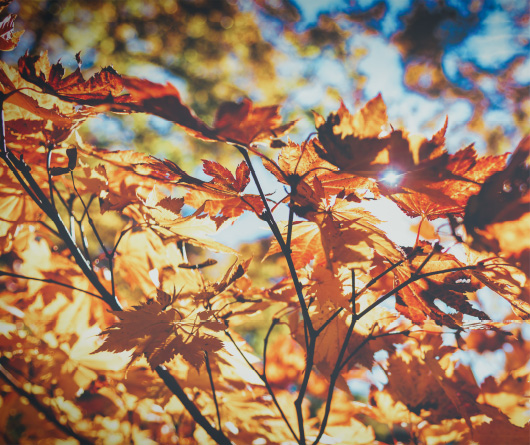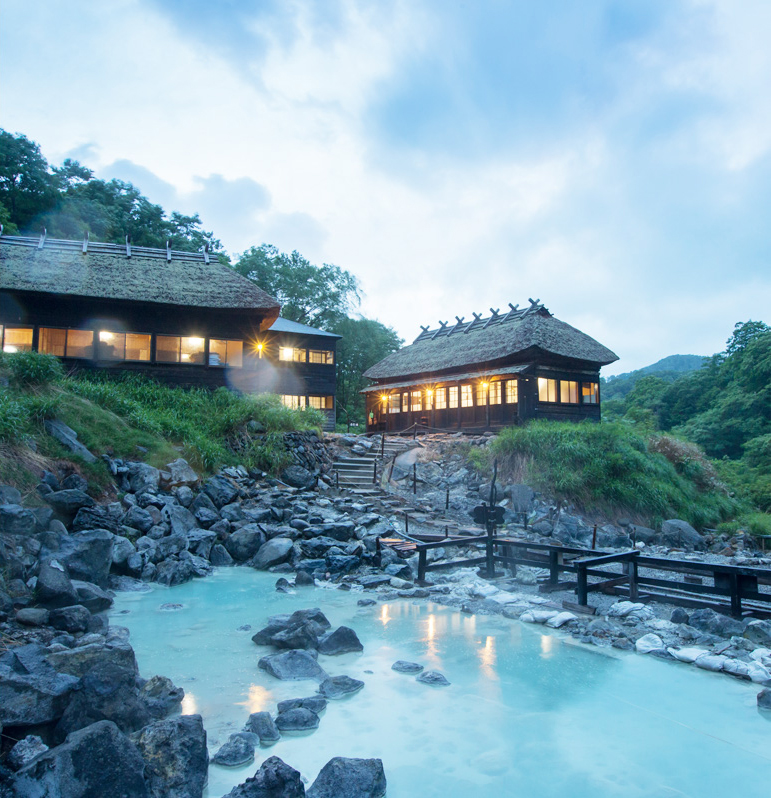 LIBRARY
LIBRARY features beautiful photos.
Enjoy the seasonal charms of Akita prefecture.
LIVE/MOVIE contents
Watch video clips that are filled with the attractions of Akita prefecture.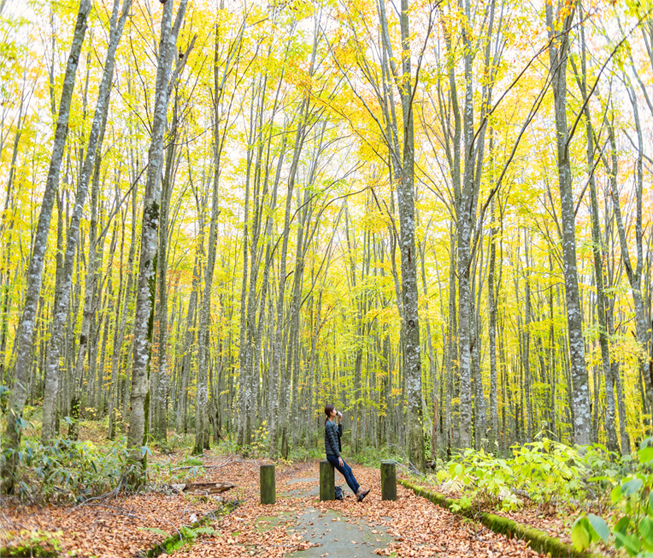 CONTACT
Inquiries
Feel free to use the form and contact us if you have any questions about 12 seasons,
or inquiries and requests about sightseeing spots in Akita prefecture.